Market Insights: June 2015
Home Sales
Home sales continue to increase year-over-year.
5.0 million
Seasonally adjusted annual rate
of home sales in the United States


Home Price
Home prices have continued to increase year-over-year.
$219,400
Average home price in the United States


LATEST VIDEO
| | |
| --- | --- |
| Mortgage Type | Rate |
| 30-Year Fixed | 3.84% |
| 15-Year Fixed | 3.05% |
| 5/1-year ARM | 2.88% |
| Historical average | 8.90% |
THERE'S OPPORTUNITY IN EVERY MARKET!
Call today to find out what's happening in your local area and how we can help!

Home Prices
Strong demand for homes combined with tight inventory levels led to significant price gains in April, as the median sales price reached $219,400. This is up 4.1% from March and 8.9% above the same month last year. As long as inventory remains in the low 5 months range, we are likely to continue seeing price gains in the 7%-9% range.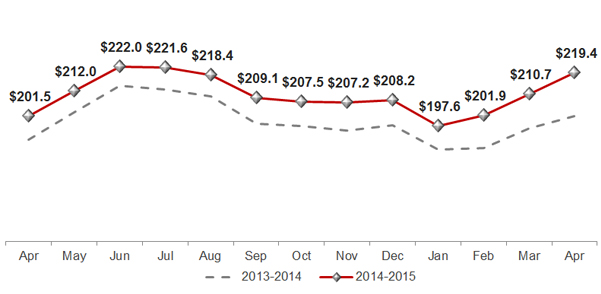 Home Sales
Homes sold at a seasonally adjusted annual rate of 5.04 million homes in April based on the report released by NAR. This was 3.3% slower than March's sales pace but still 6.1% above April of last year. The pace of home sales may be hampered by tight inventory levels in some markets. If new home construction increases this summer and inventory eases, we could see sales begin to increase again.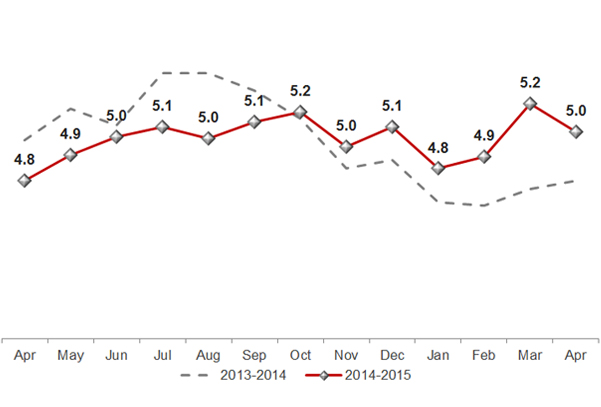 Inventory - Month's Supply
There were roughly 1% fewer homes available in April compared to the same month last year. This translated to 5.3 months of supply. Inventory continued to grow compared to the previous month as we move into the peak season. There has recently been some positive signs for new home construction; however, construction continues to lag behind expectations for the year amid concerns about the overall economy in the first quarter.

The opinions expressed in This Month in Real Estate are intended to supplement opinions on real estate expressed by local and national media, local real estate agents and other expert sources. You should not treat any opinion expressed on This Month in Real Estate as a specific inducement to make a particular investment or follow a particular strategy, but only as an expression of opinion. Keller Williams Realty, Inc., does not guarantee and is not responsible for the accuracy or completeness of information, and provides said information without warranties of any kind. All information presented herein is intended and should be used for educational purposes only. Nothing herein should be construed as investment advice. You should always conduct your own research and due diligence and obtain professional advice before making any investment decision. All investments involve some degree of risk. Keller Williams Realty, Inc., will not be liable for any loss or damage caused by your reliance on information contained in This Month in Real Estate.
/